This off-season for the Vegas Golden Knights has been nothing short of eventful and franchise-changing and fans are split on how to perceive these past few months. Some hated it and will not be watching the Golden Knights this season but most understand that some moves had to be made for cap reasons. There are some new faces in Sin City and there have been some fan-favorites traded which left some fans angry. Let's take a look.
The Good
Alec Martinez
Alec Martinez was re-signed to a 3-year contract extension worth $15.75M with an AAV of $5.25M. The deal also comes with a 16-team no-trade list in 2021-22, a 12 team no-trade list in 2022-23, and an 8 team no-trade list in 2023-24. Martinez was one of Vegas' best defenders in 2020-21, as he would've been on pace to break his career-highs in points, goals, and assists in an 82-game season and had a stellar offensive season at 5v5 and on the power-play.
Martinez hasn't been very great in defensive metrics despite him leading the NHL in blocked shots this year and being top 3 in blocks over the last 3 years. Martinez turned 34 years old not too long ago, so the term on this contract is the scary part as he could be regressing hard in the 2nd or 3rd year. Statistically according to WAR and in an article from hockey-graphs.com, a defensemen's offensive WAR is the first to regress hard in a defensemen's overall WAR, while defensive WAR doesn't regress as much. Martinez is coming off a great year especially on the offensive side of the puck, but it remains to be seen if he will keep up this play. If he does, this contract seems fair and the dollar value is what he's worth right now, not to mention the fans and his teammates love him, even giving him the nickname "Warrior".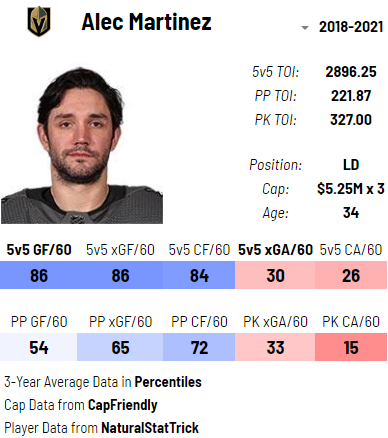 Making Lehner The Starter
With the departure of Marc-Andre Fleury, Robin Lehner comes out to be the clear-cut day 1 starter for the Golden Knights, which some fans don't agree with. Robin Lehner may not make the "flashy" saves that Fleury makes, but it doesn't mean he isn't a good goalie or he can't be a great starter. Goalies who don't have to make flashy saves are usually in position for the initial shot, which is fundamental for good goaltending.
Lehner is one of those good positional goalies and even if he doesn't make the highlight reels, his good play reflects in his stats. After a very rough start to his season in 2020-21 and suffering a concussion, Lehner came back on March 19th and put up a .920 Sv% which ranked 8th in the league among goalies with at least 500 Fenwick Against, ahead of goalies such as Philipp Grubauer, Andrei Vasilevskiy, Igor Shesterkin, Thatcher Demko and Jacob Markstrom. According to Evolving-Hockey, Lehner also put up a 6.55 GSAx which was 6th in the league among goalies with at least 500 Fenwick Against, ahead of goalies such as Semyon Varlamov, Philipp Grubauer, Andrei Vasilevskiy, Igor Shesterkin, Thatcher Demko, and Jacob Markstrom. In the last 3 years, Lehner is number one in total GSAx with 29.17.
In the last 2 years, Lehner ranks 8th in GSAx, ahead of Juuse Saros, Darcy Kuemper, Tuukka Rask, Marc-Andre Fleury, Ben Bishop, Andrei Vasilevskiy, Philipp Grubauer, Elvis Merzlikins, and John Gibson. To those saying Lehner can't be a starter, all those stats say otherwise and I have full confidence Lehner can be a number one for the Golden Knights.
Laurent Brossoit
Laurent Brossoit has been stuck behind an awful Winnipeg Jets defense the last 2 years but managed to put up a .918 Sv% and a positive GSAx of 0.97 this season with guys like Tucker Poolman and Nathan Beaulieau in front of him. Brossoit should be in a much better situation in Vegas with a much better defense. Brossoit logged a 10.89 GSAx and a .925 Sv% behind a solid d-core, so he should be a good backup for the Golden Knights who can come in for Robin Lehner if need be and play 20-30 games. Brossoit is also a solid positional goalie, which seems to be a trend for Golden Knight's netminders recently. Laurent Brossoit should be a nice goalie for the Golden Knights, going from a tire-fire on defense to a team who's at least respectable in their zone.
Getting Value For Ryan Reaves
Ryan Reaves is a fan-favorite for whatever team he plays on. He hits, he fights, he entertains the crowd. But his actual on-ice play isn't good, to say the least. The fact the team got more for Reaves than Fleury is a whole thing in itself, but a 3rd round pick for a 4th liner is a good deal. The Golden Knights clear nearly $2 million in cap and gain a little more clarity in their opening night roster. Good move here.
The Bad
The off-season didn't come with some head-scratching moves, however. The Golden Knights certainly didn't have a perfect summer.
Not Addressing Center Depth
The Golden Knight's main issue was down the middle, as an injury to one of their top-6 centers would be devastating, shown by the loss of Chandler Stephenson in the Conference Finals against the Montreal Canadiens. The Golden Knights addressed this problem by acquiring a former 2nd-overall pick who's dealt with injuries and hasn't lived up to the hype in Nolan Patrick and a former 1st-round pick who has performed very poorly at the NHL level in Brett Howden, instead of going all-in on Jack Eichel or other center options such as Tomas Hertl or Ryan Strome, all who are much better. Nolan Patrick has struggled in the last 3 years with the Philadelphia Flyers, putting up 17 goals and a measly 40 points in 124 games for the Flyers, and only putting up decent defensive quality suppression shown by xGA/60. He's been bad at 5-on-5 offense but at least he has been decent on the powerplay and good with the limited minutes he's had on the penalty kill. Patrick is only 22 years old, so he could turn it around but he hasn't shown much to lead us to believe he will, and the team traded their first-ever draft pick in Cody Glass who has been great on special teams and at 5-on-5 defense for Patrick. Hopefully, Patrick can turn it around in Las Vegas, or else this deal will look bad especially if Glass breaks out with increased opportunity in Nashville.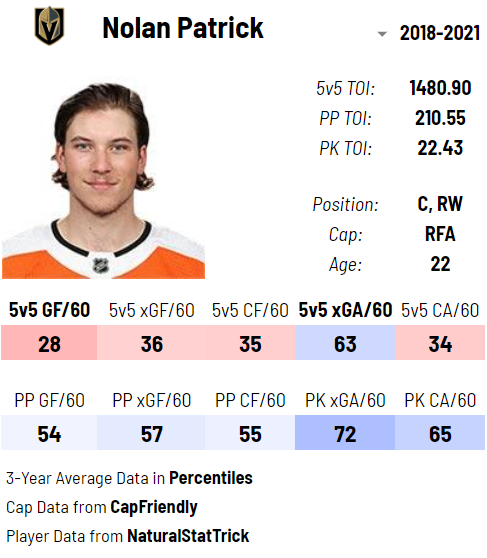 Brett Howden was the other "addition" to the Golden Knight's centers, a former 1st-round pick of the Tampa Bay Lightning who was traded to the New York Rangers in February of 2018 in a blockbuster deal with the Lightning involving J.T. Miller and Ryan McDonagh. Howden has been to put it nicely, awful on the Rangers. He's been used on the 4th line as a defensive center mostly and especially last year when he's just not that. Howden has put up a total of 16 goals and 49 points in 178 games with the Rangers and fans of the team have been clamoring for him to be gone and were mostly ecstatic from what I saw that he was traded and shipped out of town. Howden's underlying numbers don't do him any justice either, with bad 5-on-5 offense grades and abysmal defensive results. The only positive with Howden is his powerplay numbers which are average but how much of that comes from playing with the Rangers' top talent on the man advantage? The Golden Knights traded away a 4th round pick in 2022 originally belonging to Winnipeg and an AHL defenseman in Nick DeSimone for Howden which isn't expensive at all at least, but this move feels like subtraction by addition. Could Howden turn it around in a more offensive role and not being buried on the 4th line? Sure, why not. But that's just a hope and a dream as his point totals have been getting worse and worse the last 3 years and his offensive metrics don't show much belief in that regard. Hopefully, Howden finds some semblance of his 1st-round draft status in Las Vegas, but this move is a head-scratcher right now.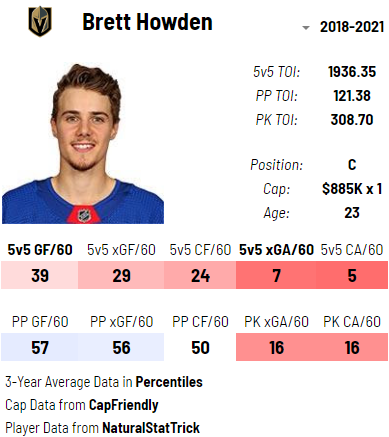 Acquiring Evgeni Dadonov Instead Of A Center
Evgeni Dadonov was acquired from the Ottawa Senators this summer for defenseman Nick Holden and Vancouver's 2022 3rd round pick acquired from the Nate Schmidt deal. Instead of going hunting for a top-6 centerman, the Golden Knights traded a great depth defenseman for a winger who's making the same amount as Reilly Smith with a modified no-trade clause and didn't have the greatest year on the Ottawa Senators production-wise with 13 goals and 20 points in 55 games. Dadonov is not a bad player by any means at all, he's a good offensive player on the power-play and at 5-on-5, but he just wasn't needed by the Golden Knights at all. An already crowded right-wing group becomes more crowded. Yes, Alex Tuch is out until January/February with shoulder surgery, and that Dadonov was most likely brought in to replace him, but why not bring up a young stud in Peyton Krebs to fill in his role and see what he can do? Instead of using $5 million of your precious cap space on a guy who's 32 and will cause lineup problems once Tuch returns, use those dollars to address your biggest need, centers. Philip Danault signed with the Los Angeles Kings with a 6-year contract worth $33 million, with an AAV of $5.5 million. A $500,000 increase for a great two-way center whose style of game shouldn't age poorly. Dadonov is just there, brought in to fix a very temporary issue but still has two years left on his contract with some trade protection. Evgeni Dadonov likely slots into the third line to start the season, so it's not like he'll be playing with a great center. Right now, the Knights 3C appears to be Nicolas Roy, not a massive upgrade from Dadonov's most common center, Colin White. Dadonov has scored 20+ goals in three out of four seasons in his career, so there's some silver lining in this acquisition. We'll just have to see how he does and how the roster looks when Tuch returns.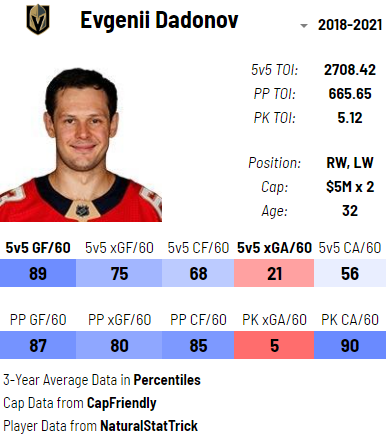 The Ugly
The Fleury Trade
Oh boy, where to start.
The Marc-Andre Fleury trade, to put it bluntly, was handled in the worst-case scenario. The team's face-of-the-franchise and fan-favorite traded away for nothing. The only asset they got back from the Chicago Blackhawks in the trade, was Mikael Hakkarainen, who was promptly bought out not too long later. The Vegas Golden Knights got nothing in return for Marc-Andre Fleury, coming off a Vezina-winning season. The Golden Knights should've at least gotten something, some semblance of value back. A 2nd/3rd round pick would've been much better. Instead, they flip a future Hockey Hall of Famer for a bag of pucks. What? And to make matters worse, the team didn't even notify Fleury when the trade happened. The 36-year-old goaltender had to find out via Twitter, which rightfully left the hockey community outraged at how the Golden Knights treated Fleury. The only good thing about the trade was dumping all of Fleury's $7 million cap hit, but even then they didn't use that money for much good. Fleury was going to get traded regardless, but the way it happened was just ugly, with Fleury contemplating retirement after being traded. That moment is a blemish on the Golden Knights franchise.